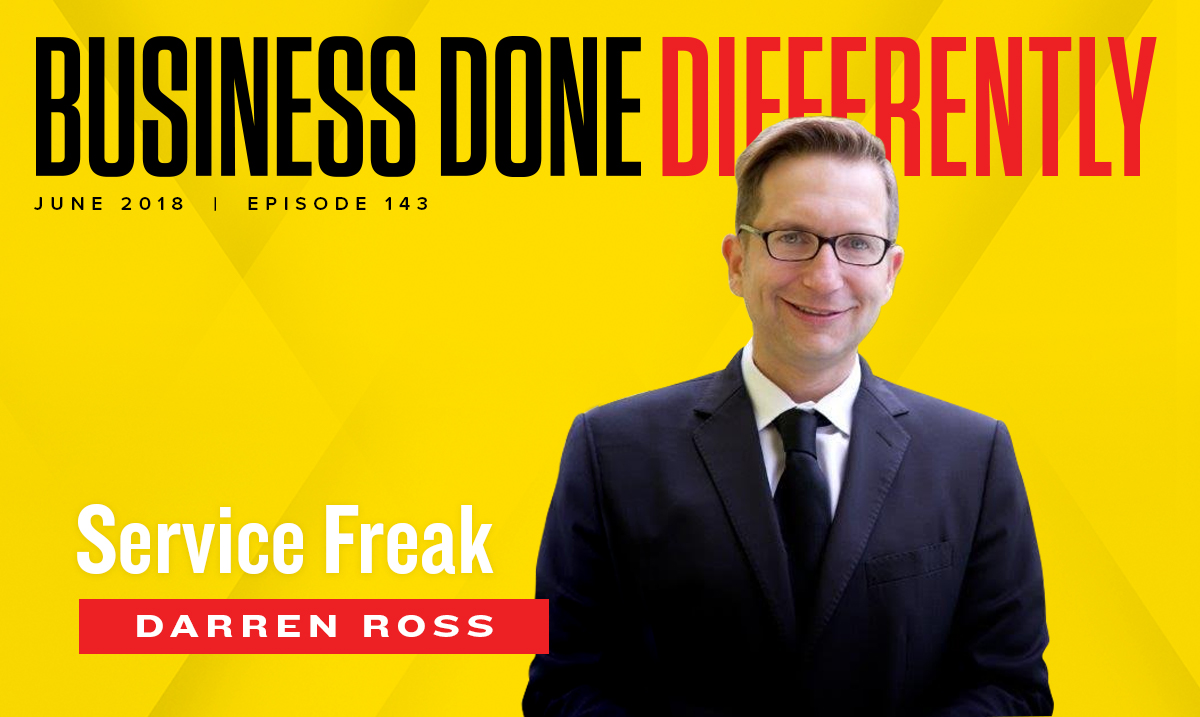 Darren Ross is the COO of the Magic Castle Hotel in Hollywood CA. His hotel has been rated number 1 or number 2 in all of the Los Angeles area by TripAdvisor. It's been featured in the best-selling book, The Power of Moments by Dan and Chip Heath. Darren is also the Chief Executive Freak of Service Freak Hospitality, a hotel management company.
"Companies are afraid to do this (free items) because they are thinking short-term profits over long-term plans." - Jesse Cole
Jesse recently stayed at the Magic Castle Hotel and was absolutely blown away. On his way out the door to do a show in his yellow tux, Darren greets him and knows exactly who is. Darren searched him on his social media prior to his stay. That's just part of what the Executive Freak does to make his guests' experience over and above what they would get anywhere else.
"Our job is to compel our customers...to scream about us without asking them to do so." - Darren Ross
Darren Ross Creating the Magic
In the early 2000's, Darren had a secret shopping gig and went to the hotel. His first encounter was a hotel employee smoking at the front desk. The owners were dedicated to the hotel and placed him first as general manager to begin the process of rejuvenating the hotel built in 1957.
"I purposely stay away from technology...it takes away from what our business is, the face-to-face experience." - Darren Ross
The hotel is a renovated apartment complex that's limited by its age and space. There's no bar, room service, spa, elevator, etc., but this does not stop them from creating an amazing experience for the guests.
Drawing from His Childhood
A lot of the experiences at the hotel come from Darren's personal experiences from childhood. There's a hotel stay, in particular, that's he's fond of. Imagine an unlimited Hershey Kisses fountain and kids. He doesn't remember the hotel and Darren can't tell you the color of the carpet but he does remember the experience and that's what he strives to create for his guests.
"You've got to put yourself in your customer's shoes... (to) experience and realize there are friction points. - Jesse Cole
Final Four
What have you done to stand out in business and in life?
"I think honesty and accountability are incredibly important. We all make mistakes. I like to run into the problem instead of running away from the problem."
What advice would you give someone to stand out in business and in life?
"Be generous."
What is the best advice you've ever received?
"Apply hotel principles to your business."
How do you want to be remembered?
"Generosity and kindness in his personal life and business."
To hear Darren Ross talk about how the demand for his hotel is so high and how he empowers his employees, download and listen to the show!
Learn from Darren Ross:
Jesse loves connecting and hearing from his listeners:
Jesse Cole is a passionate and engaging business leader sharing other leaders messages, tips and fresh ideas on Business Done Differently. Subscribe to hear more front runners doing it differently and remember to leave him a rating and review on iTunes.
Thanks to Podcast Pilot for the editing, show notes and publication. They take care of it all!